Conference: Technicals to Trading Systems
Tuesday 18th April 2023 at 09:00am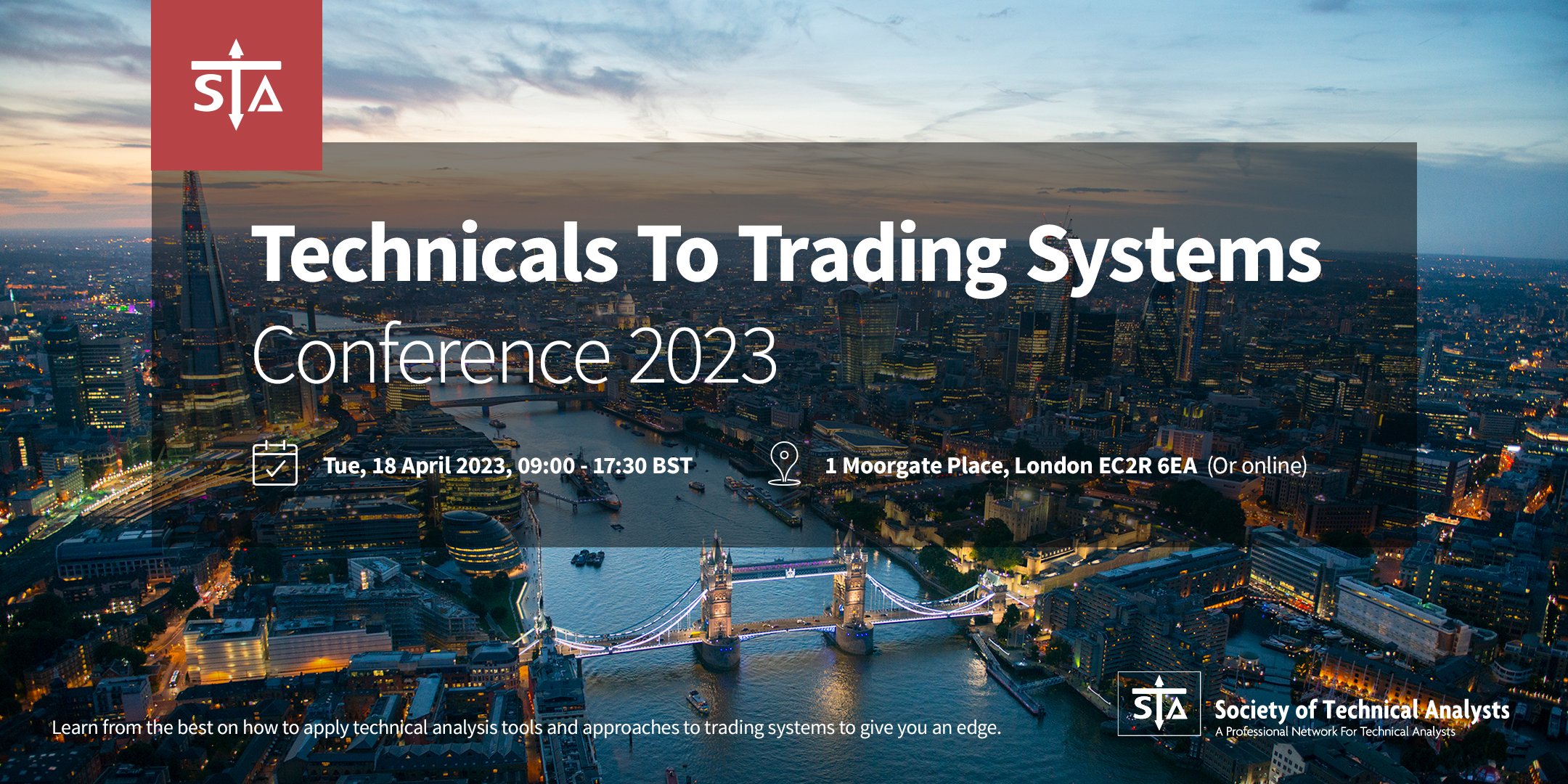 The Society of Technical Analysts is delivering their first Technicals to Trading Systems hybrid conference on 18 April 2023 taking place both online and at One Moorgate Place, City of London.
This compelling theme will address how technical analysis methods can be developed into quantitative trading systems.
Technical analysis professionals apply a wide range of techniques to assess markets, including the study of repetitive patterns on charts, mathematical calculations to determine the speed and momentum of a move, and statistical tools to identify extreme conditions. A natural progression is to extend these ideas into full trading systems that can be tested and implemented. Delegates will have the unique opportunity to learn and engage with industry leaders about the extension of technical analysis into trading systems.
Why attend:
During the course of the day:
Hear and take part in presentations and a panel debate that will inform the progression of the profession.
Take this unique opportunity to see and hear specialists who have been known to innovate and challenge the profession, and quantitative specialists who can provide a systems/structure to enhance the technical analysis discipline.
Learn more about applying technical analysis tools to an automated trading system approach.
Discover if a trading system approach can help you to quantify your technical trading and risk management tools.
Confirmed Speakers:

Perry Kaufman, KaufmanSignals.com (via Virtual Link)

Robert Carver, author and lecturer at Queen Mary University, London
Professor Jessica James, Managing Director, Senior Quantitative Researcher at Commerzbank AG
Mathew Verdouw, Founder, Optuma
Trevor Neil, Founder, BETA Group
Jason Ramchandani, Lead Developer Advocate, Refinitiv – an LSEG Business
Steven Goldstein and Mark Randall, Co-Founders, Alphamind Project
Victoria Scholar, Head of Investment, Interactive Investor
Eddie Tofpik, Head of Technical Analysis, ADMISI
Jeff Boccaccio, Co-Founder, Rfactory & The Systems Lab
Alan Dunne, Founder & CEO, Archive Capital
Stephen Hoad, Founder & CEO, The Stop Hunter
Rustam Lam, CEO, TradeStation International
Aimed at:
This one-day conference is aimed at financial professionals working in fund management, trading and hedging institutions, commodities and research firms, as well as anyone interested in systematic/quantitative trading.
Programme:
08.30 Registration and Coffee
09.00 Chair's Opening Remarks
Eddie Tofpik, Head of Technical Analysis, ADMISI and Chair, Society of Technical Analysts
09.10 Opening Keynote Address: Overfitting three different ways
The one everyone knows about
The one everyone does, but doesn't admit
The one you do without even realising it
Robert Carver, author and visiting lecturer, Queen Mary, University of London
09.50 Inflation and Long Dated Bonds
Inflation in history
Inflation today
How can we forecast inflation?
History and theory of long dated bonds (with some maths!)
Super long bonds and recent events
Professor Jessica James, Managing Director and Senior Quantitative Researcher, Commerzbank
10.30Morning Coffee
10.50 How to build a TA-based Quantitative Workflow
Discover how to embed quantitative processes into our workflow
How to use a process of continuous testing to increase confidence in our models
How do we know when we should follow our model?
Combine multiple models together to create a hybrid quantitative model
Mathew Verdouw, CEO and Founder, Optuma
11.30 Systematic Technical Analysis and Strategy Backtesting Using Python

In this session, Jason and Trevor will go through a process to develop and test a strategy using Python. The purpose of the talk is to show how simple this workflow can be using the modern tooling freely available in the Python open-source ecosystem. Jason will show the programming aspect and Trevor will show the map of the process. This is a live programming and an interactive session.
          Trevor Neil, Managing Director, BETA Group
          Jason Ramchandani, Lead Developer Advocate, LSEG/Refinitiv
12.30 Lunch
13.30 Panel Debate: What's next for systematic trading?
Victoria Scholar, Head of Investment, interactive investor (Moderator)
Stephen Hoad, CEO, The Stop Hunter
Alan Dunne, Founder, Archive Capital
Rustam Lam, CEO, TradeStation International

14.30 Rapid Prototyping: From Ideas to Live Trading

Practical Guide – with skin in the game
One piece of the bigger picture: a Diversified Portfolio of Trading Systems
We'll build and code a system together from scratch
Then Test & Release it to trade on live markets
and Monitor it through the rest of the day
What could go wrong?!
Jeff Boccaccio, Co-Founder, Rfactory & The Systems Lab

15.10 Afternoon Tea
15.30 Keynote Masterclass: Testing: The Key to a Winning System – via Virtual Link

Success is in the process
What is a successful system?
How do you want to trade?
Building blocks
Choosing the markets
How do we use this?
Summary
Perry Kaufman, Kaufman Signals
16.45 The Human Side of Algo Development
A failure to think how the algo works with you the person
Building into the algo the same human failures of discretionary systems
Seeking perfection, curve fitting and seeing the algo as the answer
Focus on the desired outcome, not the process
Steven Goldstein and Mark Randall, Founders, AlphaMind
17.25 Chair's Closing Remarks
17.30 Close of Conference followed by Networking Drinks
Meet Your Speakers
Jeff Boccaccio, Rfactory
Jeff Boccaccio has over 20 years of experience in the financial sector having worked for Deloitte Consulting, UBS and Barclays Capital across the US, Switzerland and London. He has a broad range of skills combining a strong background in information technology with financial market analysis and trading. After building a suite of automated trading systems and customised trading and analysis apps for their own use, Jeff and his partner founded Rfactory Ltd where they offer some proprietary tools to other traders and funds along with consulting services.
Robert Carver
Robert is an independent systematic futures trader, writer and research consultant; and is currently a visiting lecturer at Queen Mary, University of London. He is the author of four books: Systematic Trading, Smart Portfolios, Leveraged Trading and Advanced Futures Trading Strategies. Until 2013 Robert worked for AHL, a large systematic hedge fund, and part of the Man Group. He was responsible for the creation of AHL's fundamental global macro strategy, and then managed the funds multi billion dollar fixed income portfolio. Prior to that Robert worked as a research manager for CEPR, an economics think tank, and traded exotic derivatives for Barclays investment bank. He spent his early career in the Middle East.
Alan Dunn, Archive Capital
Alan started his career as a technical analyst and trader, working for Bank of America in London, Hong Kong, and Singapore before working as a global macro strategist with BNP Paribas in emerging markets and Allied Irish Capital Management, a global macro CTA. He was subsequently Investment Director of Royal Bank of Scotland's wealth management business in Ireland. Prior to founding Archive Capital, he was Managing Director and a member of the investment committee at Abbey Capital, a $7bn fund of hedge funds.
Stephen Hoad, The Stop Hunter
Stephen is an algorithmic, quantitative, technical analyst trader. He has 25 years+ global financial markets experience as a PM, proprietary trader, options trader, quantitative analyst and senior risk manager. Now the CIO of his own fund – IGOE Financial Ltd and CEO of THE STOP HUNTER Ltd, offering trading education and consultancy services.He has previously held senior roles at Koch Industries, Merrill Lynch, WestLB and Mitsubishi UFJ Securities.
Steven Goldstein, AlphaMin
One of the financial market's leading performance coaches, Steven has worked with traders, investors, leaders and managers at major buyside and sellside firms across the financial markets. Steven's work is informed by 25 years of trading and markets experience in front-line roles at banks such as Credit Suisse, Commerzbank, and the Banking arm of American Express. Together with Mark Randall, Steven hosts the hugely popular AlphaMind Podcast.
Professor Jessica James, Commerzbank AG
Jessica James is Managing Director and Senior Quantitative Researcher at Commerzbank in London. She joined Commerzbank from Citigroup where she held a number of FX roles, latterly as Global Head of the Quantitative Investor Solutions Group. Prior to this she was the Head of Risk Advisory and Currency Overlay Team for Bank One. Her significant publications include the 'Handbook of Foreign Exchange' (Wiley), 'Interest Rate Modelling' (Wiley), and 'Currency Management' (Risk books). Her latest books include 'FX Option Performance' (Wiley, 2015), 'Quantitative Finance' (IoP, 2017) and 'Inflation Linked Bonds and Derivatives' (de Gruyter, 2023). Jessica is a Visiting Professor both at UCL and at The Business School, University of London. She is a Managing Editor for the Journal of Quantitative Finance.
Perry Kaufman, KaufmanSignals.com
Perry Kaufman is the author of the well-known Trading Systems and Methods, and more recently Kaufman Constructs Trading Systems and Learn To Trade. He is an active trader and has spent his career as the architect for trading systems used by institutions and funds, often partnering with those firms. His experience includes commodities and equities. He has traded and managed money through the U.S.-Russian wheat deal of 1973, 20% interest rates of 1980, the stock market crash of 1987, the internet bubble of 2000, and the subprime crisis of 2008, and now the Covid pandemic. He understands risk control and believes that not all trading needs to be complex to be profitable. Perry can be reached through his website, www.kaufmansignals.com
Rustam Lam is CEO of TradeStation International. Rustam started his career trading fixed income and derivative products for international banks in London and over his 25+ years in the financial markets has held leadership roles at Reuters Group, Townsend Analytics, Lehman Brothers, Barclays Capital and the London Stock Exchange Group. His areas of professional interest and focus have been primarily around traded markets, the delivery of electronic trading and platforms and related services for institutional clients and active traders.
Trevor Neil, BETAGroup
Trevor has been an institutional trader and technical analyst for over 40 years. He is a fund manager and provides technical analysis and process improvement courses and consultancy for major firms. He is proud to have been made an STA Fellow last year having been on its board at the birth of the society. He presents the popular monthly webinar, Trevor Neil's Technical Analysis Surgery.
Jason Ramchandani, LSEG/Refinitiv
Jason has worked at LSEG/Refinitiv for 9 years as Lead Developer Advocate helping to build our Developer Community. Previously he has worked in financial markets for over 15 years with a quant background in the equity/equity-linked space at, Okasan Securities, Sakura Finance and Jefferies LLC in Research, Broking, Market-Making and Derivatives/Synthetics Structuring roles.
Mark Randall, AlphaMind
Co-founder of the AlphaMind Project and co-host of the AlphaMind podcast. Mark brings nearly 40 years of front-line futures markets experience to his work. His experience includes being a day 1 pit trader on LIFFE, NatWest's first technical analyst, was head of Greenwich NatWest Futures broking desk, and part of the LIFFE consultation team to migrate pit trading to screen. He also personally drove the RBS Futures commodity strategy. In parallel Mark has applied cognitive optimisation and stabilisation skills to himself and his work in markets since 1987, running large workshop programmes to share these skills with colleagues and ultimately to his clients, Mark is currently deputy chair of the British Association for Mindfulness Based Approaches.
Eddie Tofpik, ADMISI
Eddie started in the markets in 1980 and has worked on trading desks in Bullion, Energy, Agricultural, Softs, Metals Futures & Options. In the late 1980's he added FX, Equities and Fixed Income to his abilities and by 1990 he'd managed desks in all of these. He joined Esprit Brokers (precursor to ADMISI) in 1991 to develop FX business & started the 24 Hour FX Desk. By 2018, after 27 successful years as Head of FX he moved over to a new role as Head of Technical Analysis and Senior Markets Analyst. Eddie is Chairman of The Society of Technical Analysts in the UK (the 'STA'). He's also a Member of ACI-UK (the FX dealers association). Most recently he became a Director of the International Federation of Technical Analysts ('IFTA'), the oversight body for all Technical Analysis Societies in the World. Eddie publishes 'Eddie's Crayons…' Technical Analysis reviews on FX and commodity futures markets. He regularly speaks at conferences and on TV & radio. ADM Investor Services International Limited (ADMISI) is a full service brokerage company with a 100+ year history in London & international markets. ADMISI is a wholly owned subsidiary of Archer Daniels Midland (UK) Limited & indirectly a wholly-owned subsidiary of Archer Daniels Midland Company of the US.
Victoria Scholar, interactive investor (ii)
Victoria Scholar is head of investment at interactive investor (ii), the UK's leading flat-fee investment platform. She is a well-known commentator in the financial press as well as in the broadcast media with regular slots on BBC, Sky News, LBC News and Times Radio and others. Victoria joined ii in September 2021 from IG Group, where she was a market analyst and business news presenter at the firm's IGTV broadcast channel. Victoria has a background as a TV producer for CNBC, BBC, and CNN. She started her career on the trading floor at the investment bank Nomura.
Mathew Verdouw, Optuma
As the founder and CEO of Market Analyst (1996) and Optuma (2019), Mathew has been working in the field of Technical Analysis for over 27 years. His inquisitive nature, engineering background, and passion for helping people led Mathew to build one of the world's leading Technical Analysis applications with sales to tens of thousands of clients all over the world. His clients range from Private Traders through to Analysts and Portfolio Managers. Since 2019, Mathew, and the team at Optuma, has been building a new quant-based engine designed to help Technical Analysts embed quant into their daily process.
Timings
Conference Registration commences at 08.30am
Conference starts at 09.00am
Drinks & Networking commences at 5.30pm
Location
The conference is taking place at One Moorgate Place, Chartered Accountants Hall, 1 Moorgate Place, London EC2R 6EA.
Those unable to attend the event in-person can register virtually. Please select the Online option at checkout.
Accommodation
Delegates seeking accommodation may be eligible for a discount rate at the Apex London Wall Hotel, just around the corner from One Moorgate Place. Discounted rate subject to availability and minimum length of stay. Email info@technicalanalysts.com for more details.
Registration
This event is discounted by £50 for STA & Affiliated Members. If you are not currently a member you can join the STA today as an Associate Membership to the Society for £75 for 12 months and take advantage of this discount, making your membership only £25 for the first year. Click here for details on how to join the STA – one of the world's largest technical analysis networks – enabling you to attend at discount member rate.
In-person Delegate
Come meet and chat with our great speakers and network with other delegates during the lunch, refreshment breaks and networking drinks in the evening.
STA and Affiliated Members can register for £200

Non-Member rate £250

Online Delegate
STA and Affiliated Members can register for £150

Non-Member rate £200

Online delegates will receive the Zoom webinar link for the conference in the week leading up to the event.
Sponsorship Opportunities

If you are interested in being a Sponsor  contact Katie Abberton on +44 (0)20 7125 0038 or info@technicalanalysts.com
Affiliated Partners
Sponsors
Media Partners
Next STA Meeting
No information at present.
Future STA Meetings
STA AGM & Christmas Party
Tuesday 12th December 2023 at 6:30pm
The Thirty Seventh Annual General Meeting of the Society of Technical Analysts Limited will be held at 6.30pm and followed by Christmas Drinks. Only Fellows and Full members may vote at the AGM.
AGM
Speaker
Eddie Tofpik MSTA, Head of Technical Analysis & Senior Markets Analyst, ADM Investor Services International Ltd