Conference: Technicals to Trading Systems
Tuesday 18th April 2023 at 09:00am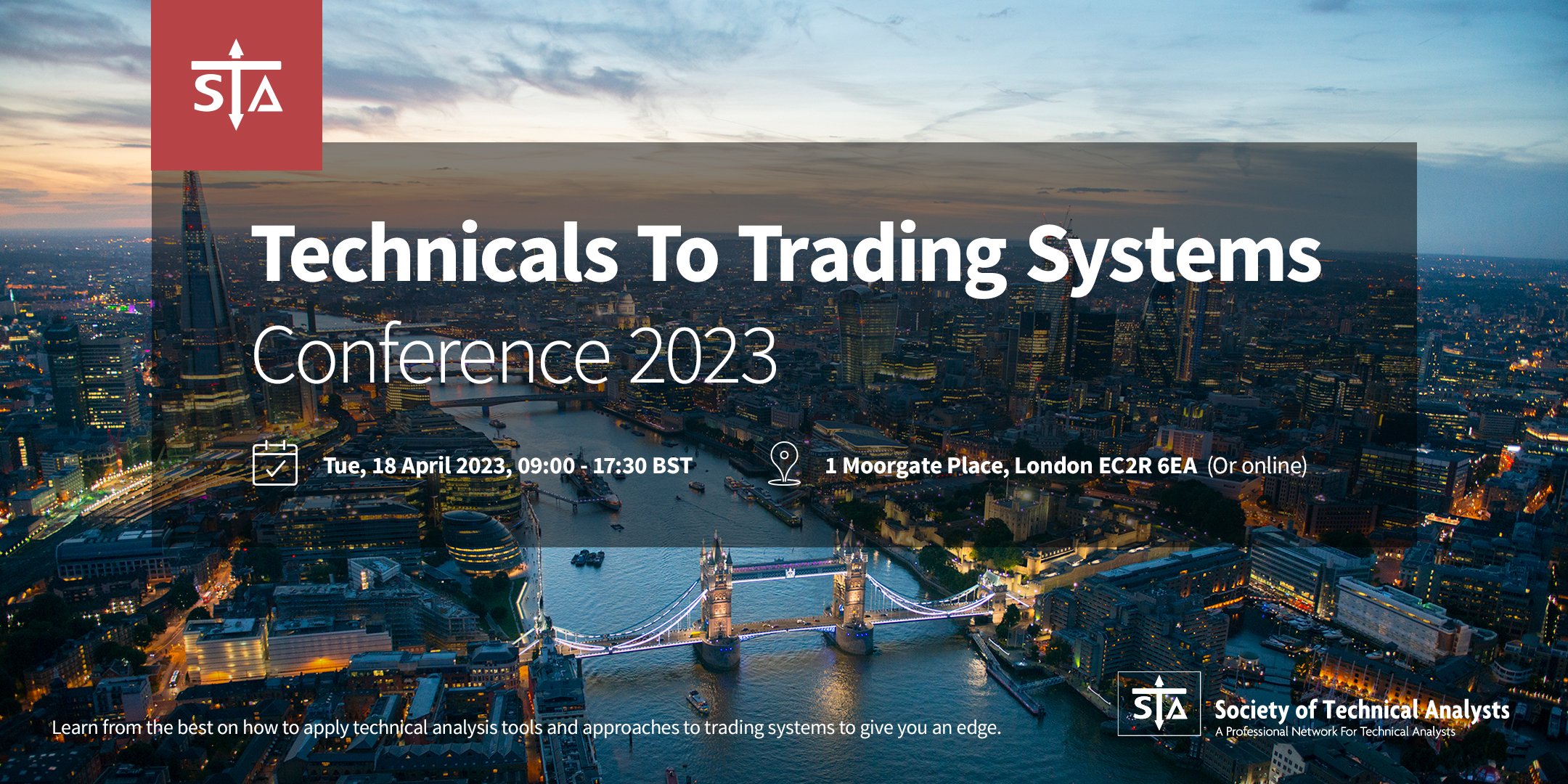 The Society of Technical Analysts is delivering their first Technicals to Trading Systems hybrid conference on 18 April 2023 taking place both online and at One Moorgate Place, City of London.
This compelling theme will address how technical analysis methods can be developed into quantitative trading systems.
Technical analysis professionals apply a wide range of techniques to assess markets, including the study of repetitive patterns on charts, mathematical calculations to determine the speed and momentum of a move, and statistical tools to identify extreme conditions. A natural progression is to extend these ideas into full trading systems that can be tested and implemented. Delegates will have the unique opportunity to learn and engage with industry leaders about the extension of technical analysis into trading systems.
Why attend:
During the course of the day:
Hear and take part in presentations and a panel debate that will inform the progression of the profession.
Take this unique opportunity to see and hear specialists who have been known to innovate and challenge the profession, and quantitative specialists who can provide a systems/structure to enhance the technical analysis discipline.
Learn more about applying technical analysis tools to an automated trading system approach.
Discover if a trading system approach can help you to quantify your technical trading and risk management tools.
Confirmed Speakers:

Perry Kaufman, KaufmanSignals.com
Robert Carver, author and lecturer at Queen Mary University, London
Professor Jessica James, Managing Director, Senior Quantitative Researcher at Commerzbank AG
Trevor Neil, Founder, BETA Group
Steven Goldstein and Mark Randall, Co-Founders, Alphamind Project
Victoria Scholar, Head of Investment, Interactive Investor
Eddie Tofpik, Head of Technical Analysis, ADMISI
Jeff Boccaccio, Co-Founder, Rfactory & The Systems Lab
Alan Dunne, Founder & CEO, Archive Capital
Stephen Hoad, Founder & CEO, The Stop Hunter
Aimed at:
This one-day conference is aimed at financial professionals working in fund management, trading and hedging institutions, commodities and research firms, as well as anyone interested in systematic/quantitative trading.
Timings
Conference Registration commences at 08.30am
Conference starts at 09.00am
Drinks & Networking commences at 5.30pm
Location
The conference is taking place at One Moorgate Place, Chartered Accountants Hall, 1 Moorgate Place, London EC2R 6EA.
Those unable to attend the event in-person can register virtually. Please select the Online option at checkout.
Registration
This event is discounted by £50 for STA & Affiliated Members. If you are not currently a member you can join the STA today as an Associate Membership to the Society for £75 for 12 months and take advantage of this discount, making your membership only £25 for the first year. Click here for details on how to join the STA – one of the world's largest technical analysis networks – enabling you to attend at discount member rate.
In-person Delegate
Come meet and chat with our great speakers and network with other delegates during the lunch, refreshment breaks and networking drinks in the evening.
STA and Affiliated Members can register for £200 (if booked by 18 March – £250 thereafter)
Non-Member rate £250 (if booked by 18 March – £300 thereafter)
Online Delegate
STA and Affiliated Members can register for £150 (if booked by 18 March – £200 thereafter)
Non-Member rate £200 (if booked by 18 March – £250 thereafter)
Online delegates will receive the Zoom webinar link for the conference in the week leading up to the event.
Sponsorship Opportunities

If you are interested in being a Sponsor  contact Katie Abberton on +44 (0)20 7125 0038 or info@technicalanalysts.com
Affiliated Partners
Sponsors
Media Partners
Next STA Meeting
STA Monthly Meeting – February 2023
Tuesday 7th February 2023 at 6:30pm
Fireside chat with Dr Ken Long
STA Monthly Meeting – February 2023
Tuesday 7th February 2023 at 6:30pm
Fireside chat with Dr Ken Long
Future STA Meetings
No information at present.