JPMorgan Corporate Challenge – July 2015
Thursday 9th July 2015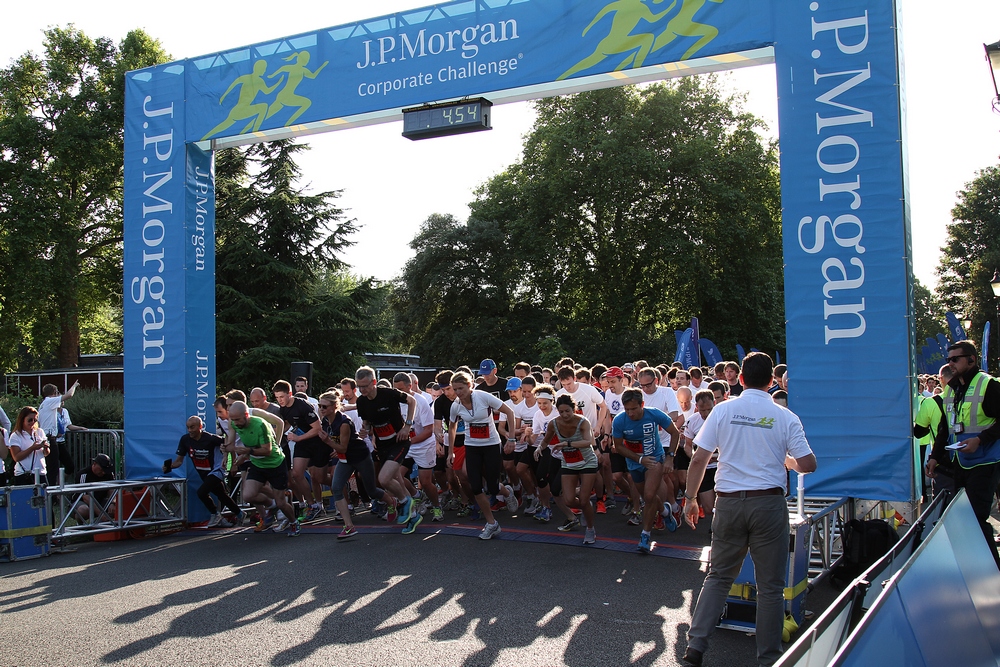 Despite Thursday 9th July 2015 being the first complete London underground strike in 13 years, STA runners weren't daunted (though numbers slightly depleted) as they ran for charity at the annual JP Morgan fun run. Setting up team HQ at the Prince Albert pub garden, this was certainly not your typical financial gurus' usual haunt.
Organised by STA executive committee member Tom Hicks MSTA and chairman Axel Rudolph FSTA, with vice chairman Charles Newsome MSTA one of the runners and Mark Tennyson d'Eyncourt FSTA manning the fort (built of rucksacks), the committee were out in force.
Told to strip and don fetching STA T-shirts, they obediently complied and posed to have their picture taken at the first ever STA event of its type. Superbly organised – and the weather couldn't have been nicer – they set off in batches based on their own estimates of time to complete the 5.6 kilometre circuit. We are pleased to announce that there were no drop outs and no injuries.
A lovely and challenging evening was had by all.
Next STA Meeting
STA Monthly Meeting – April 2023
Tuesday 11th April 2023 at 6:30 pm
Trading Multiple Strategies: Diversify and Smooth the Equity Curve
Speaker
Nick Radge, Head of Trading & Research, The Chartist (Australia) and TradeLongTerm.com
STA Monthly Meeting – April 2023
Tuesday 11th April 2023 at 6:30 pm
Trading Multiple Strategies: Diversify and Smooth the Equity Curve
Speaker
Nick Radge, Head of Trading & Research, The Chartist (Australia) and TradeLongTerm.com
Future STA Meetings
STA Monthly Meeting – May 2023
Tuesday 9th May 2023 at 6.30 pm
Speaker: TBC